The 56. International Art Exhibition titled "All the World's Futures"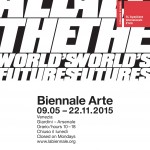 The Venice Biennale
56. International Art Exhibition
cured by Okwui Enwezor
"All the World's Futures"
9 May – 22 November 2015
Save the Date
Vernice: 6th-7th-8th of May 2015
Awards ceremony and the inauguration: May 8th 2015
Public Opening from: May 9th 2015
The 56. International Art Exhibition titled "All the World's Futures", directed by Okwui Enwezor and organized by La Biennale di Venezia, chaired by Paolo Baratta. The preview will take place on 6, 7 and 8 May, the awards ceremony and the inauguration will take place Saturday, May 9, 2015.
89 National Participations will be exhibiting in a unitary itinerary that starts from the historical Central Pavilion (at Giardini) and continues at the Arsenale. Over 136 artists from 53 countries will show their works, of whom 88 for the first time.
Guided Tours
For a better and more thorough request a guided tour!
For information and reservations contact promozione@labiennale.org – tel. +39 041 5218 828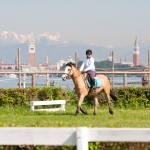 #Lido di Venezia: Sports & Fun 2015!
(March – November)
Riding, Tennis, Archery, Sailing & windsurfing, golf, beach sports, Spa: lots of fun and relaxation at the Venice Lido!
Reiten, Tennis, Bogenschießen, Segeln und Windsurfen, Golf, Strandsportarten, Spa: viel Spaß und Entspannung am Lido von Venedig!
Equitation, Tennis, Tir à l'arc, Voile et planche à voile, golf, sports de plage, Spa: beaucoup de plaisir et de détente au Lido de Venise!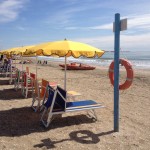 (May – September)
A fantastic summer season 2015 is set in Venice Lido! Beach and clean and warm sea for quality relaxation after a visit to the beautiful historic city of Venice!
Eine fantastische Sommersaison 2015 ist in Lido von Venedig! Strand und sauberes und warmes Meer für Qualität Entspannung nach einem Besuch in der schönen Altstadt Venedigs!
Une saison fantastique d'été 2015 est fixée au Lido de Venise! Plage et la mer propre et chaude pour la détente de qualité après une visite à la belle ville historique de Venise!
By Stefano Calandra
|
News
|
0 comment